MASH Ft. Liberty does a charitable fundraising project each year, Solstice Food Drive.
Project Descriptions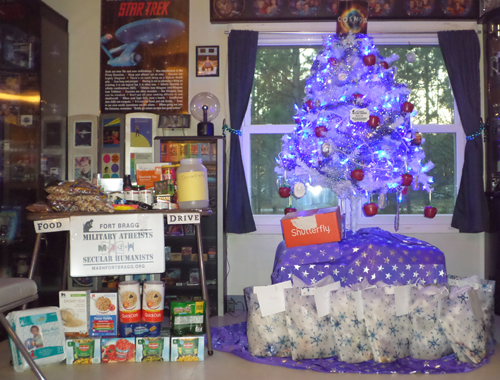 Every year for Winter Solstice, MASH Ft. Liberty collects food donations for the Food Bank of Central & Eastern NC. 100% of any money donated is used to purchase food for the drive. Whatever food we amass between Labor Day and our annual Solstice Supper is taken to the Food Bank and donated. Pictures of the donation are submitted to the Fayetteville Observer, The Pilot in Southern Pines, the Raeford paper and Paraglide. This Food Bank was chosen because it is less religious than others in the area and we like to make sure that the needy (atheists or otherwise) aren't religiously pressured in their time of need.
PAST FUNDRAISERS
Secular School Supplies Drive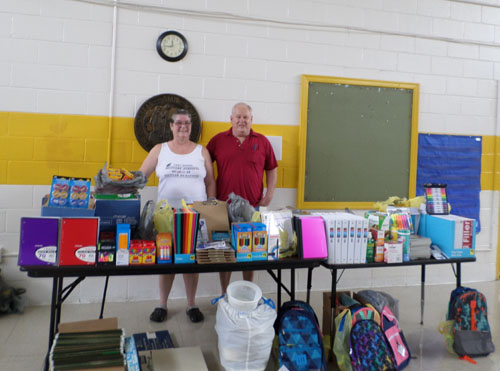 Previously, at our annual Memorial Day Cookout, we would start our Secular School Supplies Drive for Ferguson-Easley Elementary School in Fayetteville. Ferguson-Easley is a low-income, predominantly African-American, STEM (Science, Technology, Engineering and Math) school. When we started this fundraiser in 2014, they were the only STEM school in Fayetteville. They have teachers who are vets and many children who attend the school are military kids.
All
money donated was used to purchase needed back-to-school supplies to add to the supplies purchased by our members. In 2017 almost $500 in supplies were donated! This fundraiser has been suspended.
Coke Rewards
MASH used to do a fundraiser via My Coke Rewards for Ferguson-Easley Elementary School, a Science and Math public charter school in Fayetteville, NC. This fundraiser has been suspended.
Boxtops for Education
Bring any unexpired Boxtops for Education to any MASH Fort Bragg function. We give them to school during our Secular School Supplies Drive drop-off. They are worth 10 cents each to the school. You'd be surprised how quickly that adds up! This fundraiser has been suspended.
St. Baldrick Fundraiser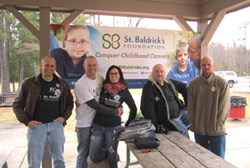 Ray Bradley, Ian Kernaghan, Robyn Leadbetter, Jeremy Tranka & Anthony Lewis
MASH Fort Bragg joined members of CNCAH (Central North Carolina Atheists & Humanists) on March 23rd 2013 at Lake Rim Park to raise $746 for the St. Baldrick's Foundation to fight childhood cancer by going bald. CNCAH member Jerermy gave up the most hair, having his full beard and shoulder length hair shaved off. Great fun was had by all that afternoon despite the VERY brisk temperatures. It's always amazing to see just how much we can accomplish when we come together for a great cause! Thank you to all who participated or donated to the cause!

Hurricane (Superstorm) Sandy
GO Humanity, formerly Foundation Beyond Belief (FBB) raised funds for Hurricane Sandy relief efforts. The Humanist Crisis Response program of Foundation Beyond Belief serves as a focal point for the humanist response to major humanitarian crises. Their purpose is twofold: to bring resources to those in desperate need, and to raise awareness of that need in the humanist community and beyond.
In the United States, the beneficiary is TEAM RUBICON, an innovative new disaster response organization that leverages the skills of U.S. military veterans in the aftermath of natural disasters. TR currently has eleven volunteer teams at work in the U.S. disaster zone.
Rock Beyond Belief 2012
Rock Beyond Belief was a success, despite the early rain. Thank you to all who participated!
M*A*S*H Food Drive A Success!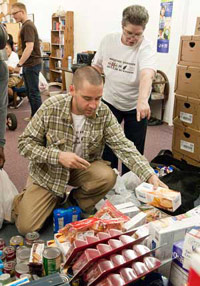 Our Food Drive held during Rock Beyond Belief was a resounding success. After a couple of attempts to find a charity helping veterans that would openly accept a donation from atheists, we found Vets Empowering Vets. Below is the beginning of the article about our donation day. Visit Paraglide to view the entire article.
Raising nearly $5,000 in food and donations was easy for the Fort Bragg Military Atheists and Secular Humanists and finding a charity that would accept the gift wasn't as difficult as expected.
The organization collected from online sources and other venues and contacted a charity called Veterans Empowering Veterans. Read more...